OCs

Eye Manipulations

Stamps


Check out my groups!






Name: Erin/Blaze

Age: 16
Personality: Crazy

~ About me ~

In a relationship: Yes - Boyfriend ~Tonyspr33
Art: Dragons, eye manipulations, other manipulations. (still working on other stuff)
Music: Two Steps From Hell, Audiomachine, Immediate Music, Future World Music, and Owl City.
Likes: Owls, other types of birds, bears, foxes, big cats, music, snow globes, books,
hats, umbrellas, scarves, piano, violin, water, fire.(Other stuff I can't think of)
Dis likes: Pink, potatoes, people, seeing girls in those freaking short shorts. (Other stuff I can't think of)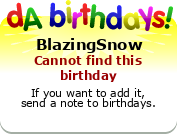 .